We think it's important that you know who is going to be by your side as you learn to drive before they arrive to take you out on your first lesson. So without further ado, please allow us to introduce our fabulous team of driving instructors! Each and every one of our instructors is driven by your success and committed to helping you pass your test. They are fully trained and accredited, as well as regularly attending refresher courses to keep up to date with evolving exam content, legal requirements and safety conditions.
Each member of our driving school operates in a slightly different area – you can see where each instructor covers below.
When you're ready to book, simply call us on 0161 327 2105 to book your first lesson with your chosen instructor!
Hi I'm Geoff Capes – owner of the driving school. I've got almost 20 years' experience under my belt as a driving instructor, as well as running courses and training for newly qualified instructors and seasoned professionals alike. I'm passionate about the industry, and I'm even more passionate about helping you to pass your driving test! I offer driving lessons in a manual vehicle, but I also carry out lessons in our automatic car. I cover most of the South Manchester area.
Andy is one of our most experienced driving instructors – he has been an ADI (Advanced Driving Instructor) for 11 years. In a previous life, Andy was a chef – but when he got fed up with that, he decided to take a completely new direction with his career and trained to become a driving instructor. Andy loves meeting new people and helping them to achieve independence through passing their driving test. In his spare time, he loves fishing and Manchester United.
Andy carries out his lessons in a manual car and covers Macclesfield and all other nearby areas.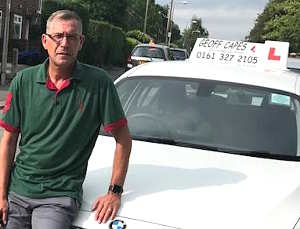 Ian Hill conducts our automatic driving lessons all around South Manchester in his shiny new BMW automatic car. He has plenty of experience as a driving instructor – qualifying as an ADI in 2000. Before that, Ian has had a varied career which includes running pubs, working as a plasterer and even driving buses. Despite a diverse collection of past occupations, Ian has always wanted to be a teacher – he loves imparting his knowledge to the next generation of drivers and enjoys the challenges he often faces as part of the job. If Ian won the lottery, he would buy an Aston Martin and teach in that (fingers crossed!). He would also love to go to Las Vegas and play poker in the WSOP.
Stephen mainly covers Tameside and the High Peak district in his manual white Ford Fiesta. Stephen is another of our experienced driving instructors – qualifying as an ADI in March 2007. Previously he worked as a Lab Technician at Louvolite, a window blind manufacturer. He has always wanted to become an ADI – so when he finally got the opportunity having been made redundant from his 9-5, he took it with both hands and has never looked back. He really enjoys his role as ADI as no two days are ever the same. Most of all he loves the feeling he gets when students pass their test! Stephen is married with two daughters and in his spare time, he loves to spend time with them. He is also a season ticket holder at Manchester United – so he loves going to games or watching them down at the pub with his mates.
I would like to give a big welcome to our latest driving instructor to join our team, Amanda Nichols. Amanda has a wealth of experience as a driving instructor, having worked in the industry for 11 years. When Amanda is not helping people to pass their driving test, she likes camping, hiking, dining out and listening to music. Amanda's biggest thrill is seeing the sheer delight on the face of a pupil who has just passed their test, something which she finds thoroughly rewarding and wouldn't be without. You can see Amanda in her brand new Mazda travelling around the streets of Macclesfield.
I would like to introduce to you our latest instructor Paul Curtis, Paul mainly covers Stockport and surrounding districts. Paul has only been here a short while but has already become a very valued member of our team.
Paul why did you decide to become a driving instructor?
My Daughter was learning to drive she had a few problems and I helped her to overcome those issues and realised I was calm, relaxed able to help and good at it. so, I thought why not have a career change 2 ½ years later here I am.
What did you do before becoming a driving instructor?
I was a Car mechanic, worked for a few main dealers then ran my own successful mobile mechanic business.
What do you like about being a driving instructor?
I enjoy the teaching, sharing my knowledge not just so people can pass their test but to drive safely, courteously until they are too old to drive.
What car do you do you teach in?
I have a Ford Fiesta which is what I teach in and my personal car is a Volvo Estate. (Grandad's car)
What are your interests outside of work?
Running and Cycling (road and Mountain biking)
Call 0161 327 2105 to book your driving lesson